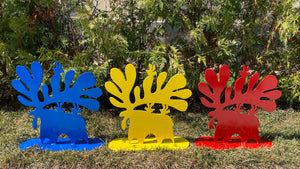 Get all 3!

Sculpture h18" x w18" x d6" steel and acrylic paint 
This model contains three Whiskeyjack birds sat on top of a moose.
The Whiskeyjack is the trickster in Algonquin culture.  The Whiskeyjack teachings are about the importance of sharing.
Second in a series of three models for the Algonquin Moose sculpture now located at Pimisi Station, Ottawa, Ontario.