Birch Bark Risograph

Technology meets tradition
Birch Bark Risograph
Technology meets tradition
Learn More
Risograph x Birch Bark Biting Collection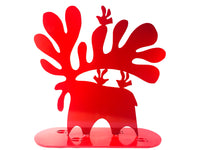 Algonquin Moose II
The Whiskeyjack is the trickster in Algonquin culture. The Whiskeyjack teachings are about the importance of sharing.
First in a series of three models for Algonquin Moose sculpture now located at Pimisi Station, Ottawa, Ontario.
Buy Now
Simon  Brascoupé - Algonquin Artist
Simon  Brascoupé, Anishinabeg/Haudenausanee – Bear Clan is a member of Kitigan Zibi Anishinabeg First Nation, Maniwaki, Quebec. Simon Brascoupé is an internationally known dedicated to the revitalization of Algonquin culture and arts. His original prints on canvas and paper are made by traditional Algonquin stencil (pochoir) technique. His profound knowledge of Aboriginal symbolism is reflected in his work. Simon's artistic vision is to understand traditional values and teachings through the continuity of imagery and the narrative. Simon's work has been exhibited in Canada, the United States, Europe, China and Cuba. He is represented in the collections at the Canadian Museum of History and the Smithsonian Institute, Washington, D.C. His work is also in major corporate and private collections.